What makes Safari Surf's program so unique and popular is we create customized inclusive packages that offer the ideal surf vacation experience that YOU are looking for.
When you first arrive in Nosara there is a sense of calm, of belonging and welcoming. Nestled in a quaint town in the Guanacaste Province on the Pacific side of the country, Nosara has become a "mecca" for both the traveling surfer and the traveling yoga enthusiast.

The vibe in and out of the water is so special that words just cannot do it justice. Once you have stayed a night or two in Nosara you understand why people are continuously drawn back to its shores. With year-round excellent surf for all levels of surfer at your fingertips to countless adventurous activities to keep the blood flowing, you too will fall in love with the people, the place and the vibe of Nosara.
Because we create the ideal inclusive experience for you, we don't have standard pricing.
Typically one of the largest price factors is your lodging choice. We can, however, provide you with price ranges to help give you a ballpark idea of cost for a 7 night / 8 day "turnkey" all inclusive type stay. A turnkey package would include: transportation, lodging, bike(s), some meals, daily surf lessons, activity(s), video analysis & surf photos.
Below are examples of approximate pricing!

03 Accomodations - Hotels
We offer a variety of excellent lodging options for you to choose from based on your taste & budget. From Hostels, Boutique hotels, high end hotels, to rental homes.
All of the options Safari Surf offers have A/C, strong WiFi (for those who need to stay in touch or work), and are a 2-5 minute stroll to the sands of Playa Guiones and our office location with shops and restaurants in between.
At the Harmony Hotel, guests can enjoy the rare luxury of knowing that the beauty they see is rooted in ecologically sound practices.
All 24 guest rooms are located on a path that meanders through a tropical garden overflowing with native vegetation, and your ears don't lie – that is the sound of the waves! Harmony features a Full-Service Spa and a Wellness Center directly on the property. Their restaurant focuses around plant based foods primarily and fresh seafood with health and wellness the focus of their cuisine.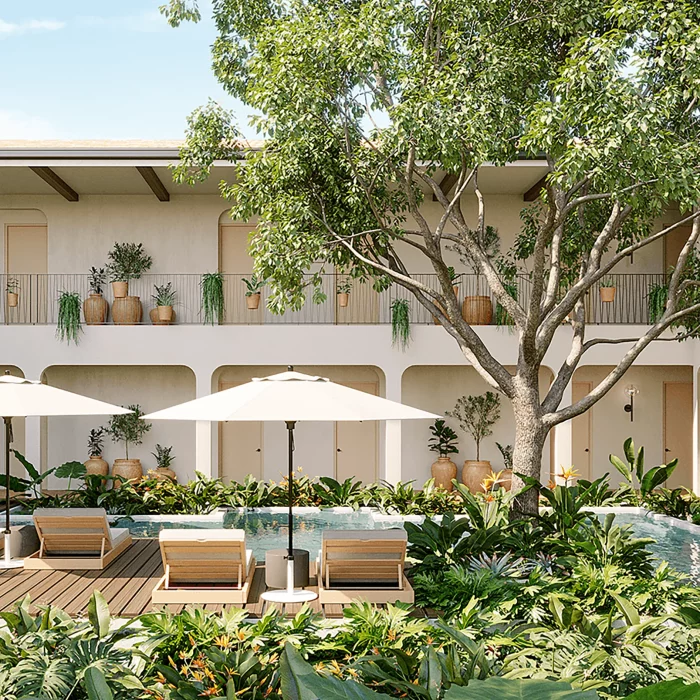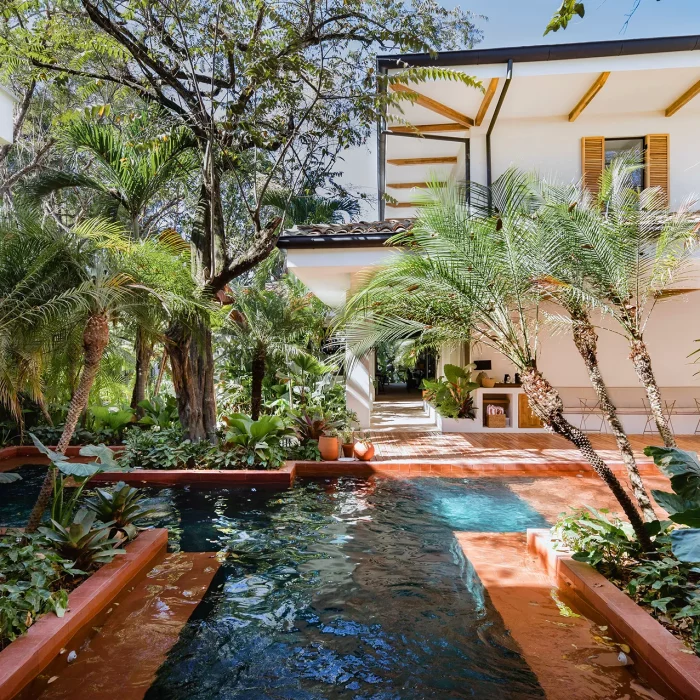 Luxury on the beach. Come for the surf, the sun and most of all the pura vida vibe!
Tucked away in a lush nature reserve with only a sendero (/sen'dero/: spanish translation, a short path or trail) between you and the breaking waves, Sendero hotel immerses you in the sounds and sights of the animals and birds and the abundance of jungle plants and trees, while still being in the heart of Nosara.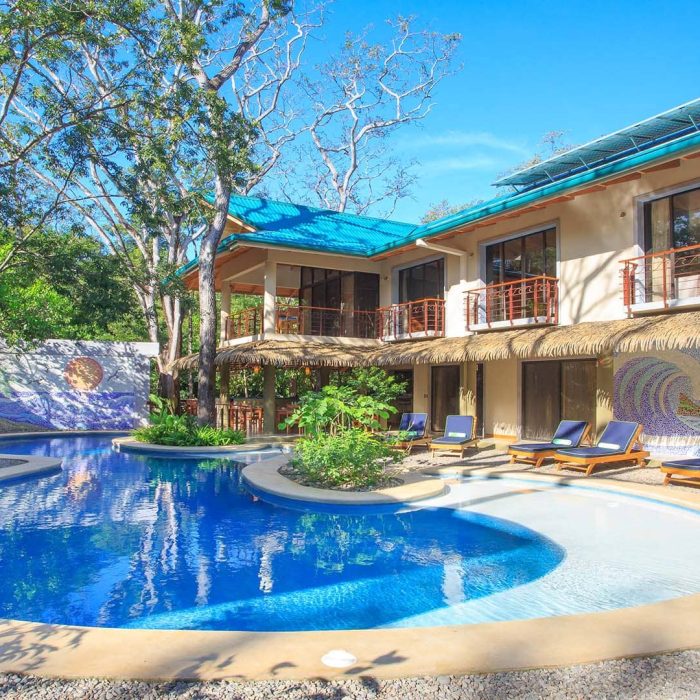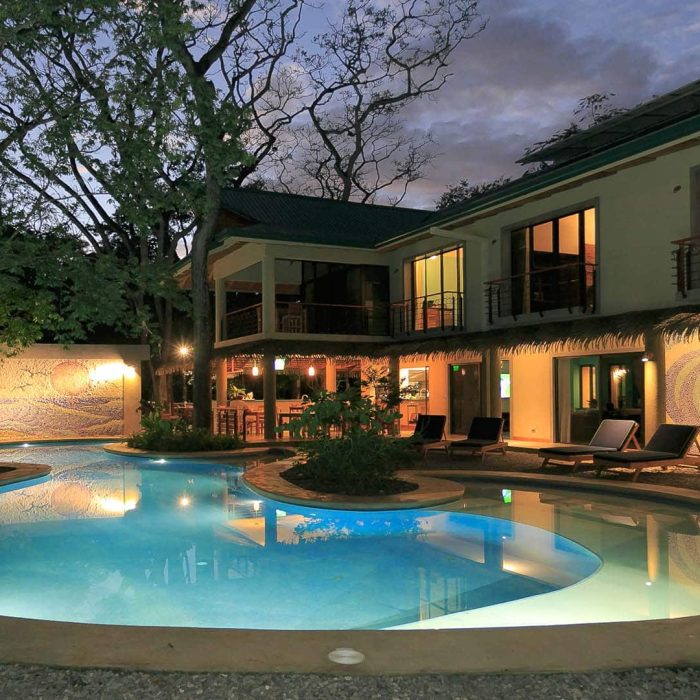 Olas Verdes is Safari Surf's partner hotel where our office and program are located and our number one recommended lodging option.
Olas Verdes opened in Nov. 2015, and was the first Platinum L.E.E.D. certified hotel in all of Central America. Offering expansive rooms, a beautiful pool, Howler monkeys in the trees overhead and native floral surroundings. All 17 rooms, some of which can be combined to create 2, 3 and 4 bedroom suites look out onto the pool or, out to the neighboring wildlife refuge. Just a short private 2 minute walk through the jungle path through the refuge brings you to the sand and surf. El Manglar Restaurant on the grounds has amazing food options that can soothe any healthy appetite after a good surf session.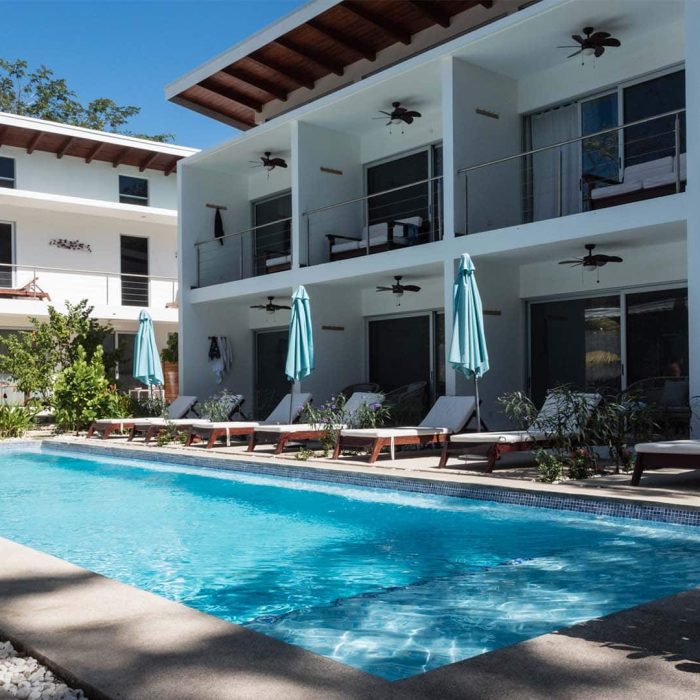 Ride On Beach House is a unique blend of tranquility and tradition, steps from the Pacific ocean.
This newly built hotel raised its flag in 2020 and embodies the Costa Rica surf vibe. Clean, modern and sophisticated lines draw the property to your eye. This property too has its own private path to the beach and is literally next door to the Safari Surf!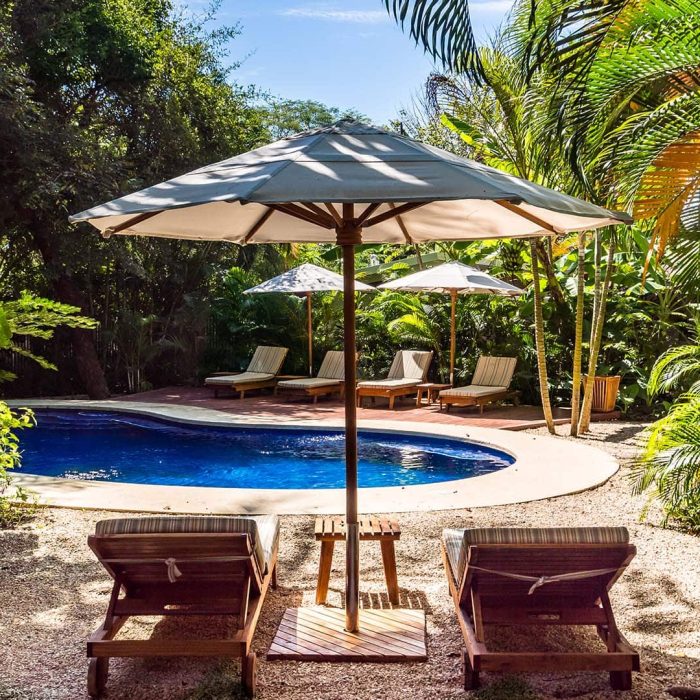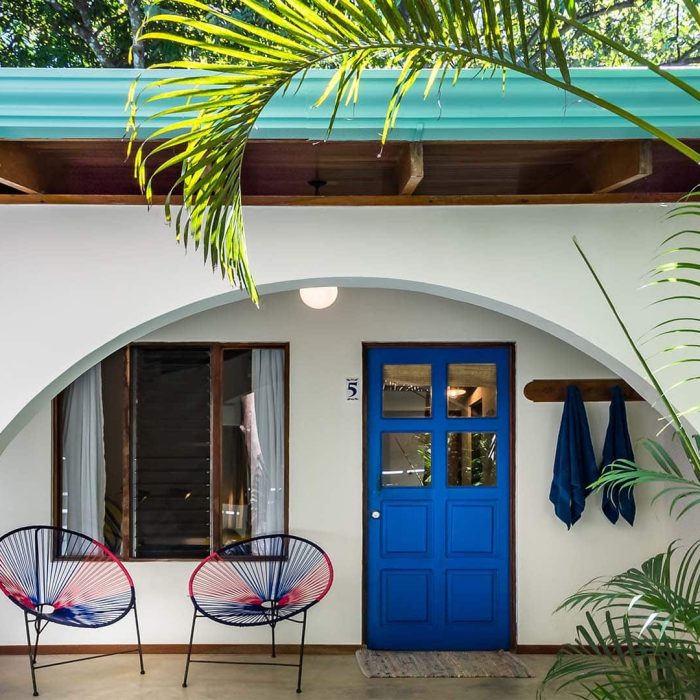 SURF, SLEEP, EAT is the mantra of this Cool 8 room boutique hotel snuggled right in the middle of Playa Guiones.
Centrally located to all the shops and restaurants and of course the beach, this hotel screams "chill". The hotel is also owned by the same people as the Harmony Hotel so attention to detail and customer service is evident. Their restaurant focuses around plant based foods primarily and fresh seafood with health and wellness the focus of their cuisine.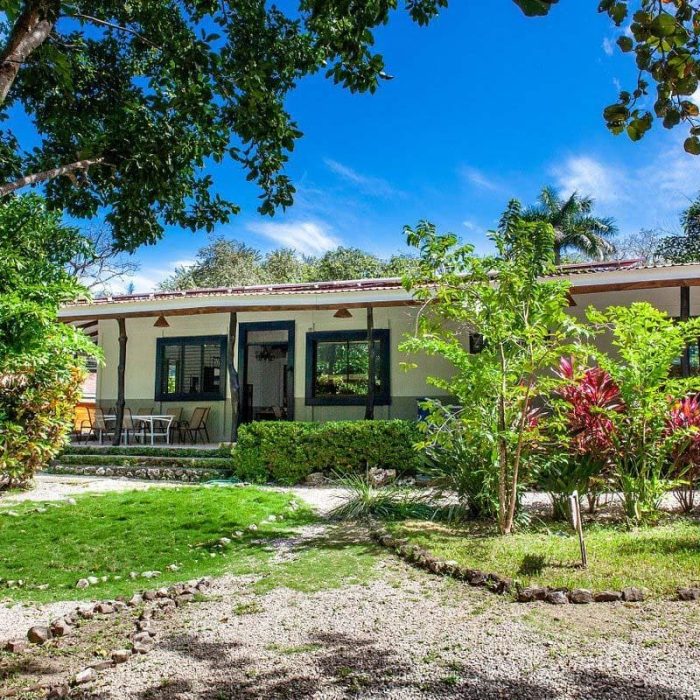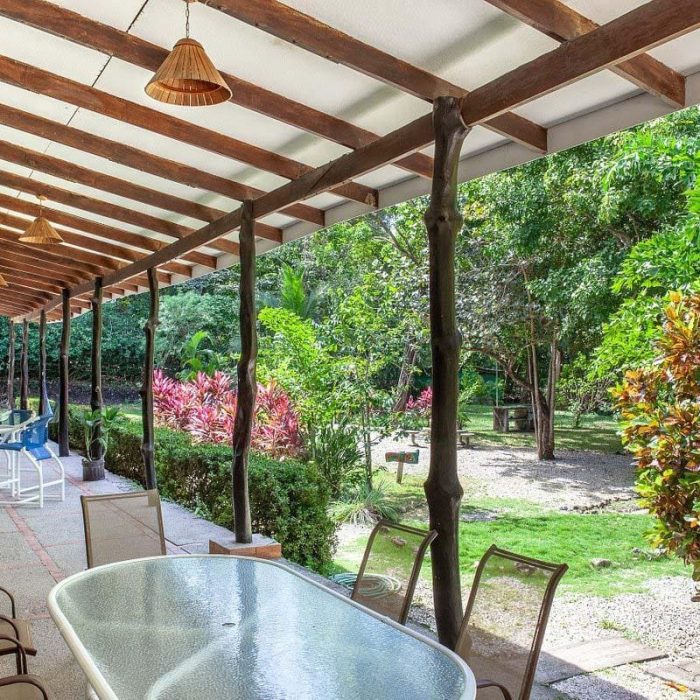 Traveling solo? Looking to meet and greet travelers like you in a budget friendly accommodation?
Nosara Beach Hostel is the ticket. A mere 300 meters to the sands of Playa Guiones, this location is so perfect for the budget conscious traveler as its location can't be beat. So close to the beach AND only some 50 meters from Safari Surf's office and program. This facility offers shared room and private room options, a common area and a shared kitchen area for those who like to cook their own meals.
In the spirit of customizing our guests packages… it would not be complete without an option to rent one of the many gorgeous homes that are available in the Playa Guiones area.
Below are just a few of our favorites homes on offer to wet your whistle. Home rental rates range anywhere from approximately $400 USD to $1000 USD + per night depending on the home and amenities on offer.
Join us for a surf lesson...
or stay for a full-on surf holiday.
In other words, stay as long as you want.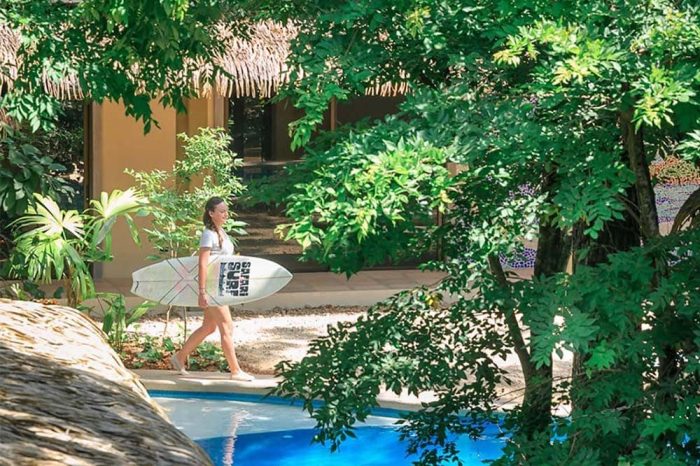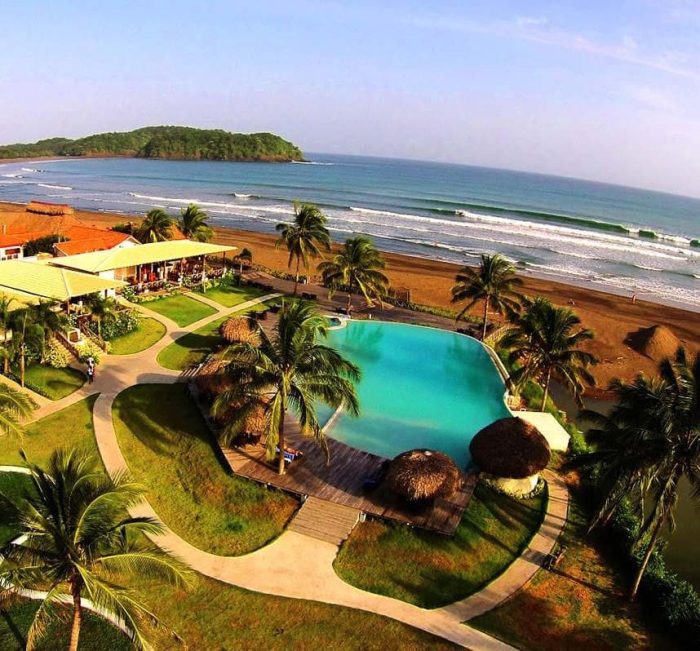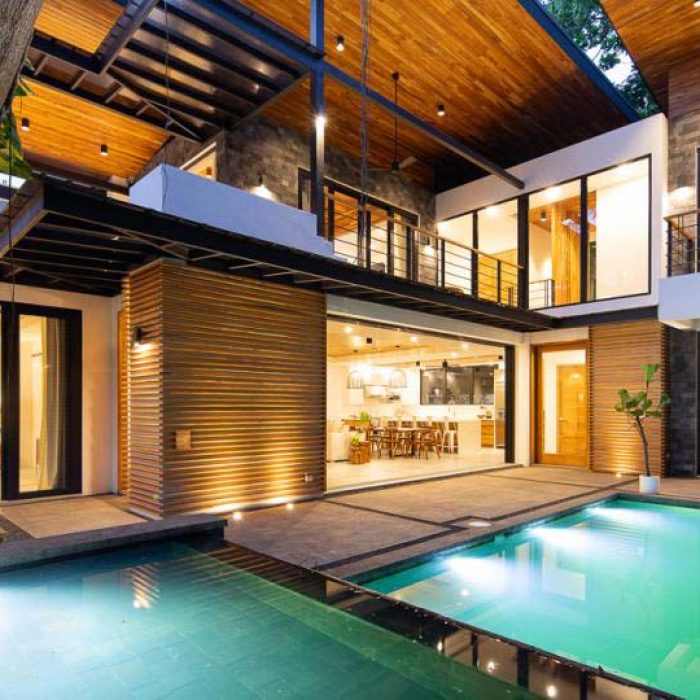 Finished construction in early 2020 this modern, eco-friendly, luxury four (4) bedroom, four (4) bath home minutes from the main surf break in Section J in Nosara, Costa Rica.
This beautiful and serene home was collaboratively built with Nosara's local and leading architect, builder, and designers. Choosing local woods and artisans for the home's furnishings to blend modern design with Costa Rica's beautiful jungle canopy.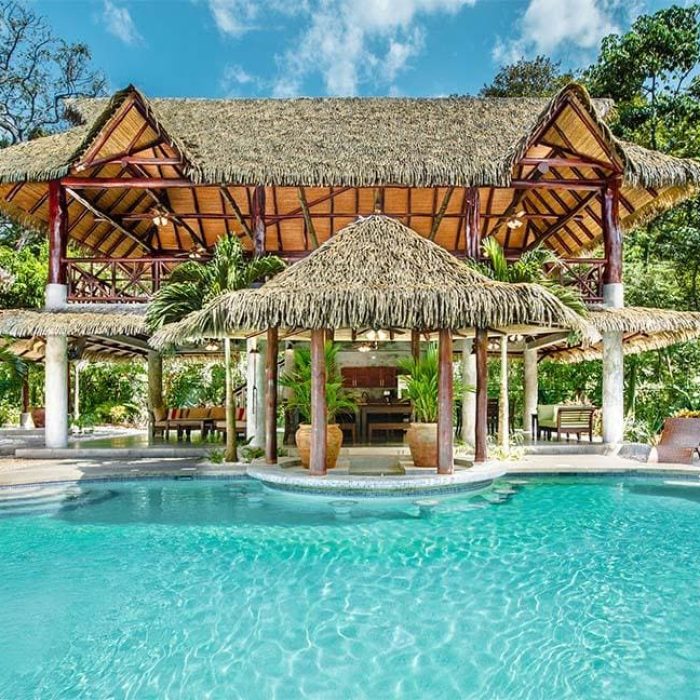 This property boasts the largest salt water pool on the beach with a custom swim up pool bar. The layout consists of 4 buildings that make up 8 bedrooms and 7 bathrooms and can accommodate parties up to 20.
There are 3 master suites, 4 studio suites and a kids room with a bunk/trundle bed. The main house has a custom kitchen with upgraded stainless appliances. All bathrooms have stone and tile showers and custom poured concrete vanity/sinks. We have laid out the landscaping to maintain the Costa Rican feel and there are tropical views from any of the several outdoor patio lounging areas. The outdoor structures include a two story 2000 sf open air Rancho. The main floor is full amenity livable. A complete custom kitchen, dining seating for 20 and a living room area complete with a flat screen tv. The second floor is perfect for Yoga classes or parties. We also designed a separate structure for meditation or private massages. There are two strategically placed outdoor showers.
Casa Hermandad is a gorgeous 4 BR home located very close to the Beach Dog Cafe (tall concrete fence, nice covered gate and door with sign above the gate).
The pool is situated in the front; as you enter the sliding front doors into the open living room and kitchen, you will find a Master bedroom with en-suite indoor/outdoor bath (bath and toilet inside, shower outside) on your left along with another bedroom and disconnected bath. Across the home on the right is another Master bedroom with en-suite bath and doors to the covered terrace (nice entertaining space with bbq grill) as well as the fourth bedroom (kids room with bunks). The home is furnished tastefully and landscaped well.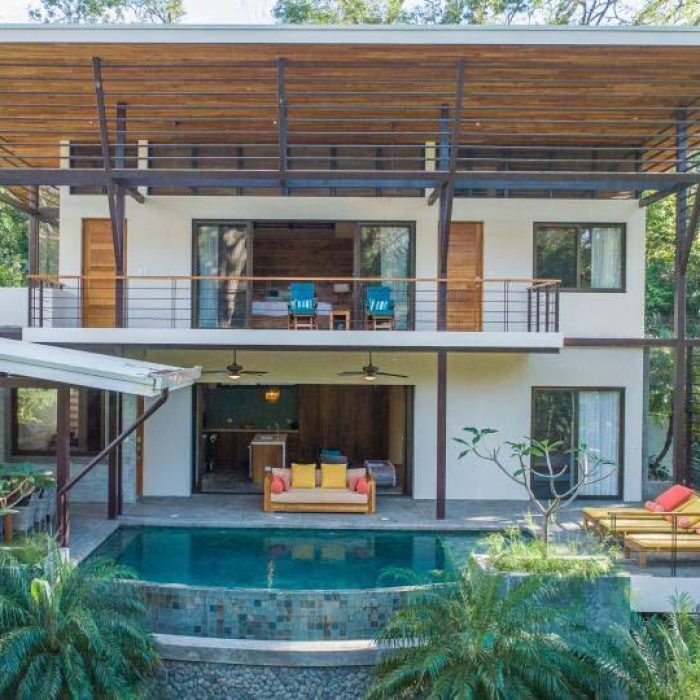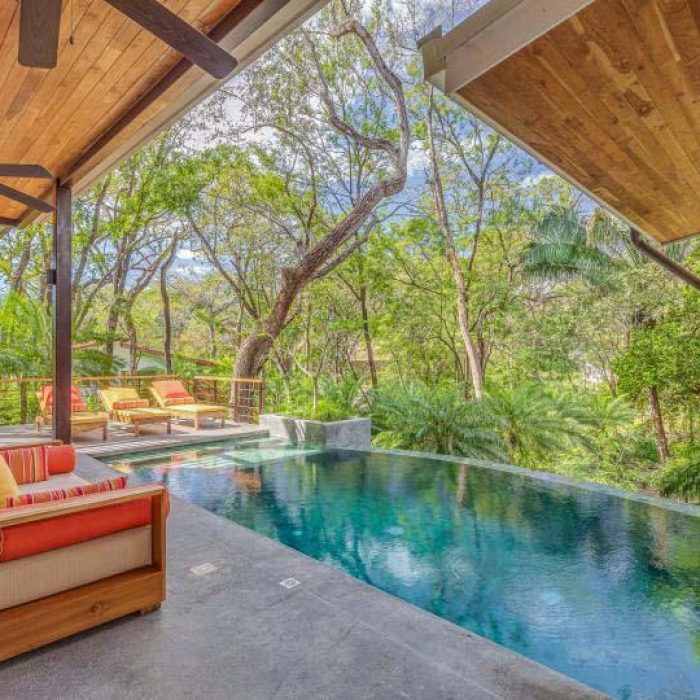 Located on a small hill in the desirable K-Section of Playa Guiones you will find Casa Girasol – a lovely new build that blends natural materials like stone and wood with modern design into a delightful home that feels inviting and comfortable.
Fall asleep to light breezes and the sound of the ocean and awaken to the sound of birdsong and Howler Monkeys in this beautifully landscaped jungle paradise. The house boasts 3 bedrooms – all with air conditioning, ceiling fans, and ensuite bathrooms. The master bedroom on the 2nd floor has a king-size bed with sliding doors to the terrace and a view of trees outside and the jungle below. The 2nd-floor guest bedroom has three single beds (one of which is a trundle). The third bedroom on the main floor has a sliding door with a walkout to the terrace beside the pool.
Nestled in a quaint town in the Guanacaste Province on the Pacific side of the country, Nosara has become a "mecca" for both the traveling surfer and the traveling yoga enthusiast.
You need not look any further than our incredible blue ocean waters off our coast line for the best fishing there is in Costa Rica.
Let our local knowledge take you to the best surf on offer based on the swell direction, wind, and tides.
The moment you pull up to a secluded surf spot and the surf is firing… that is what it's all about.
Chase dolphins while sitting on the bow of the boat dipping your toes just inches above these magnificent creatures!
Experience the crystal blue waters off our coast and you might even run into a sunken ship to explore!
Sway with the ocean currents while the sun sets on another amazing tropical day in paradise.
What they're saying about Safari Surf?
*****
300+ Reviews on TripAdvisor
Our TripAdvisor's Certificates Of Excellence