Drop-in to the ultimate surf experience with the #1 Costa Rica Surf School
OUR COSTA RICA SURF SCHOOL HAS BEEN FEATURED IN…
Safari Surf is not your typical Costa Rica Surf School."
Immerse yourself in an authentic sustainable Nosara surf vacation experience.
Stay with us and we'll share our passion and vast knowledge for the art of wave riding, as well as introduce you to our amazing community here in Nosara, Costa Rica, and beyond. Our local employees and the culture behind Safari Surf School set us apart from the rest and make Safari Surf the best surf school in Nosara, Costa Rica, and all of Central America. All this while leaving behind an incredibly small carbon footprint.
"The most iconic
& sustainable surf program
in Central America"
Pick from three amazing surf destinations: Costa Rica, Panama & Ecuador.
Offering accommodations for all budgets!
From youth hostels to the most luxurious home rentals and everything in between... Safari Surf offers accommodations for everyone!
Or, stay as long as your heart desires in our holiday homes.
Join us for a surf lesson or stay for a full-on surf holiday.
In other words, stay as long as you want.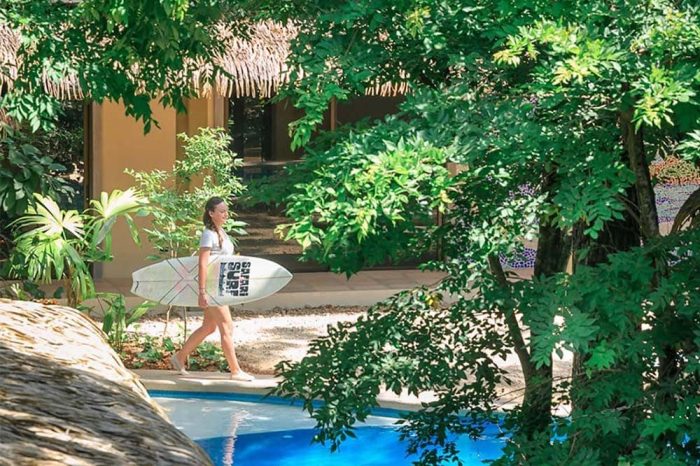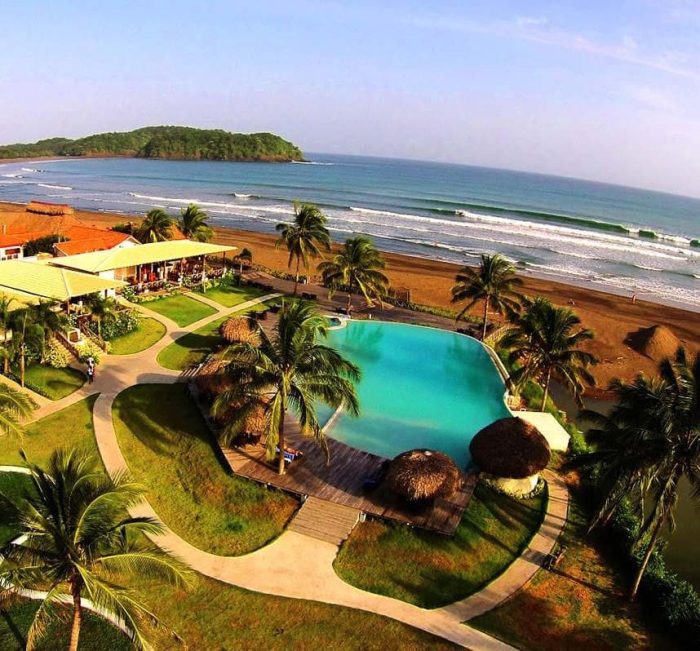 Don't forget to send us a postcard 😉
"My wife and I have been taking our kids to Safari Surf for over a decade now. We have been to family surf camps all over Central America and Southern California. Safari Surf's accommodation choices, impressive quiver of boards, food, culture and warm water are top-notch. But what really makes Safari Surf stand out to us is its roster of relatable, fun and highly capable instructors. They get you in the right place at the right time, with the right tools to succeed (all with a big welcoming smile on their faces). Safari Surf has taught all 3 of our kids to surf, and how to be safe on their own in the water. They have also helped my wife and me progress even further in our surfing. Our kids still have smiles on their faces when they talk about their instructors from Safari Surf. They have everything you need if you have a group of complete beginners, or if you have a group with very diverse abilities."
"I have been coming to Safari Surf School for 5 years now, and I can't say enough good things about the quality of the instruction which I receive there or the quality of the entire staff who work there. The instructors are knowledgeable, professional, kind, and yet ready to give you the criticism which you need to improve your surfing. The Manager of the school, Jeffrey, is incredibly caring and competent. If you have a need, Jeffrey can always help you out. I have surfed with several other surf schools inNosara and other places, and this one is the best both for the quality of the instruction and the friendliness of the staff whether you are a beginner or a more advanced surfer who wants to improve. The surf school is set in a beautiful hotel, Olas Verdes, which has an excellent restaurant, El Manglar. From hotel to restaurant to surf school,Safari can well accommodate all of your needs. I feel fortunate to have found it."
"Hands down - Safari Surf in Costa Rica is my one true happy place. It's so much fun, it's almost hard to describe. I'm 59 years old, but they still managed to teach me how to get onto green waves in record time (and get a photo of it to boot!) The instructors are super patient and ISA trained. It allowed me to skip ahead and avoid bad habits beginners unknowingly make. I used to take site-seeing vacations, but after learning to surf, I understand how much more valuable an adventure vacation is. Nosara is an ideal place to learn surfing. The waves are consistent with enough variation to keep me learning, but never a time when I felt I had to sit out. Just me and a perfect beautiful friendly wave. I'm so grateful to the crew at Safari Surf for showing me another side to life I had been missing. They are such good human beings and are very passionate about the art of teaching surfing. I can't wait to get back! "
"Our family has been surfing with Safari since 2004. They helped us catch our first waves and now guide us when we need to fine tune our skills. Beyond surfing, they introduced us to Costa Rican people and the pura vida vibe we're grown to love. Tim and Marsi are so attentive and professional but yet relaxed in their approach to putting together the ideal surf vacation for our family everytime we go. Once in Costa Rica, Jeffrey and the entire Safari Surf family are so welcoming and filled with such "pura vida" vibes it feels like coming back to visit family everytime we step foot there. Words can't describe how we truly feel about this company and the people that make it what it is…a memorable experience!"
"Hey Tim and Marsi, We wanted to send a quick note of thanks and gratitude for our amazing week there in Costa Rica. We are so impressed with the Safari Surf team and Olas Verdes Hotel. You guys nailed it! The people have been just amazing in every way. It felt like an insta-family right when we got there. Jeffrey and all of your amazing surf instructors have been so kind hearted and have been able to take care of any off hand request that Mark or I may have had during our stay. We officially LOVE Safari Surf and will be telling all of our friends about this amazing experience. And of course you can count on us coming back to visit very soon! Thank you again for everything you have done for us. Simply the best trip we've ever had."
Mark & Jennifer Lipscomb Family
"Safari Surf School rocked! Our family of 12 had the BEST time!! And the 10 of us who surfed, most of us having no experience, all got up on a bunch of waves! Safari Surf was able to accommodate both the complete beginner as well as the super surf girl in our group.The surf instructors were just great! Jeffrey was the host/concierge extraordinaire! He made us feel at home, and every time we requested anything, he was super attentive with great attention to detail. We felt that we made a new friend in Jeffrey. All in all we loved the Safari Surf package! Thank you Tim and your team who made this an unforgettable experience for all twelve of us."

We've been the 1st STOKE certified Sustainability Surf School. And we're super proud of it. Nature is our playground, and we have to protect it.
*****
300+ Reviews on TripAdvisor
Our TripAdvisor's Certificates Of Excellence