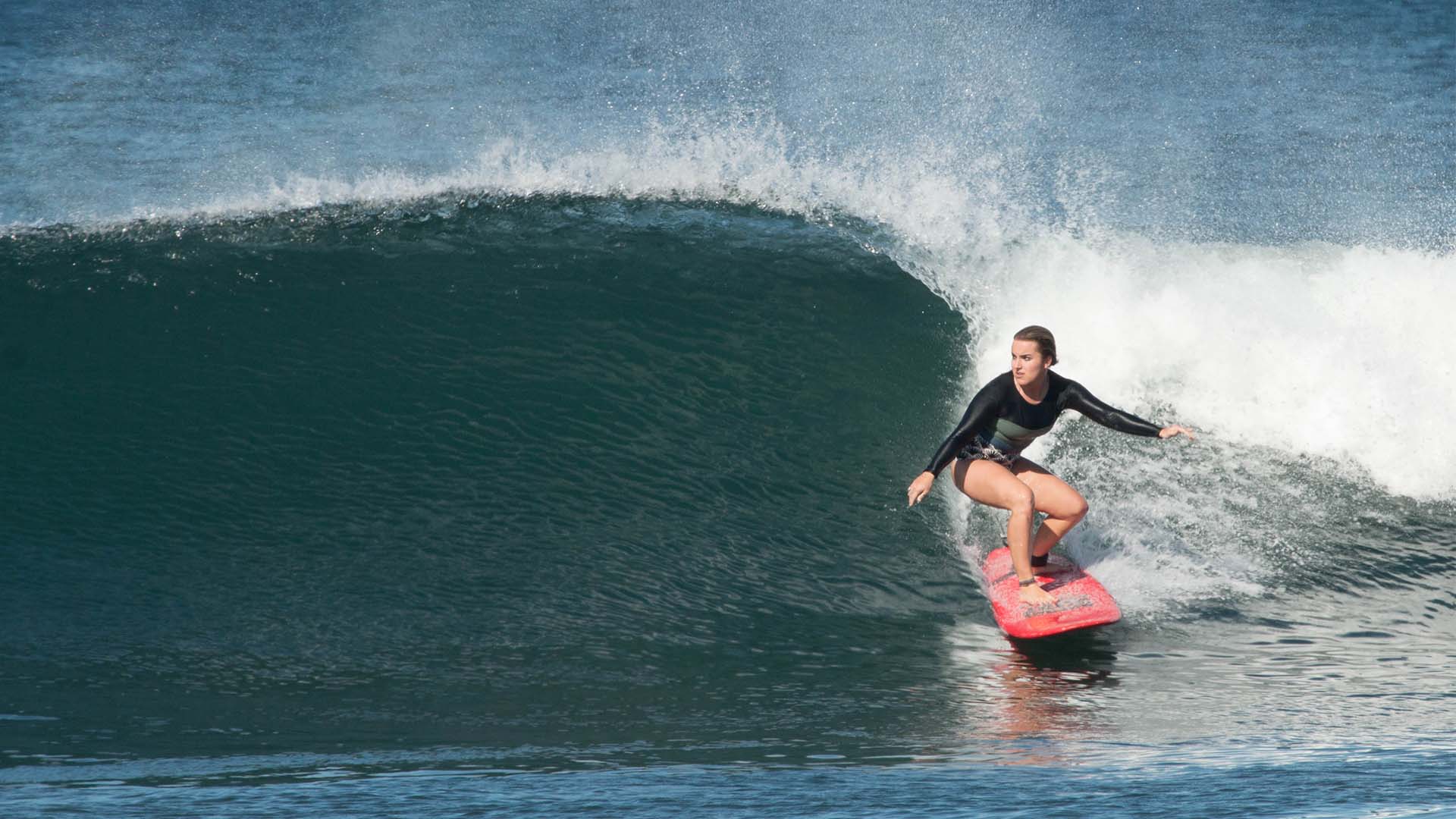 If you're looking for your next surf adventure, head to Costa Rica. Travelers have been flocking to Costa Rica for decades in pursuit of perfect waves. While some of Costa Rica's surf towns have grown overpopulated and over-developed, Nosara retains its small-town charm. Known for world-class waves and stunning coastline, this tropical paradise has something for surfers. Whether you're an experienced surfer yearning to travel to one of Central America's best beach breaks or a new surfer looking to ride your first wave, our team at our Costa Rica Surf School can show you the ins and outs of our little Costa Rica surf town. Continue reading below for Why Surfing in Nosara Should Be on Your Bucket List.
Surfing Nosara Where There are Perfect Waves for All Levels
Whether you're a beginner or a seasoned pro, Nosara has waves perfectly suited for your skill level. With consistent swells all year round, even the off-season days are fun. Playa Guiones is a wide-open beach break with miles of sandbars to choose from. Playa Guiones offers new surfers the chance to catch and ride green waves thanks to the gentle slope of the wave. Down the road in Garza, experienced surfers will find a variety of world-class setups accessible by boat, including left and right point breaks.
Beautiful Beaches and Scenery
Nosara's stunning coastline never gets old. We've seen thousands of sunsets from the shores of Playa Guiones, yet we still walk down each evening as the sun dips below the sea. Surfing Nosara gives you access to unapparelled natural beauty. Where other surf towns in Central America have high-rise hotels and towering resorts, Nosara has protected coastal forests and jungle-clad hills filled with exotic wildlife.
A Surfer's Paradise
Nosara is a surfer's paradise in every sense of the word. The town's environmental protections and development guidelines have turned Nosara into a mecca for surfers, yogis, and travelers. When you're not surfing Nosara, explore the town. The town is filled with surf shops, boutique clothing stores, charming restaurants, and yoga studios.
A Chance to Disconnect
Nosara is known for its laid-back vibe and commitment to sustainability. With limited development and an emphasis on eco-tourism, it's the perfect place to disconnect from the hustle and bustle of everyday life. Take a break from technology and immerse yourself in the natural beauty of the area. If you're a remote worker, fear not, it's easy to stay connected in Nosara. With tons of cafes and strong WIFI around town, it's never been easier to stay connected on a surf trip. Wake up early and catch dawn patrol each day before hopping on your 9 AM Zoom call.
Opportunities for Adventure
While surfing is the main attraction in Nosara, there are plenty of other adventures. Take a zip-line tour through the jungle canopy, go on a horseback ride along the beach, or take a yoga class in one of the many studios in town. There's always something to do in Nosara.
A Culinary Delight
Nosara has evolved in the last decade into a haven for Foodies. With decadent local flavors and a fine selection of international cuisines, it's easy to fall in love with the food scene when you're not surfing Nosara. Start each day with a traditional breakfast of Gallo Pinto or a healthy smoothie bowl and end each night with a meal to remember.
Nosara, Costa Rica, should be on every surfer's bucket list. With perfect waves, stunning scenery, and a welcoming surfing community, it's the ultimate destination for any traveling surfing. Book your trip to visit Safari Surf and get ready for the adventure of a lifetime!